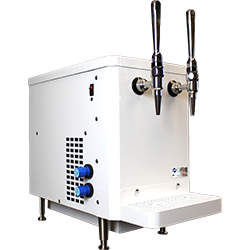 ProFusion Countertop System
N2 Beverages on Tap
Nitrogenated and Still Beverage on Tap.
Flash chills ambient temp keged beverages.
The system utilizes one keg of cold brew coffee, tea or your craft beverage of choice to dispense two different style beverages.
Simple set-up: one keg connection and one gas connection.
Integrated ProFusion injector nitrogenates the beverage at the time of dispense.
Two integrated secondary regulators feed both the keg and injector pressures.
Built in 50 mesh stainless steel strainer, washable and reusable.
Optional custom tap handles available.
Specifications
30, 12 oz cups per hour @<40F
Self-contained refrigeration system
Compressor: 1/9 H.P.
Refrigerant: R134a CFC-free
Ambient Operating air temperature: 40F-100F
Electrical: 120VAC/60Hz/1 Phase
2.8 AMPS
Minimum circuit breaker size: 15 amps
Water bath: 2.5 gallons
Ice bank: 6 lbs
Weight: 75
Cup clearance: 8.5"
12"W x 26"D x 21.5"H*
Air intake at rear with air filter
Allow 4 inch rear and side clearance for airflow
6 ft overflow drain hose
9 ft electrical cord NEMA 5-15
4.25 inch legs
* Actual height varies depending on tap handle style
pdf ProFusion Brochure (3.30 MB)
archive CP2000 CT2 iN2 2P CAD Files (70 KB)
default QF Crysalli CP2000 CT2 iN2 2P REVIT File (744 KB)