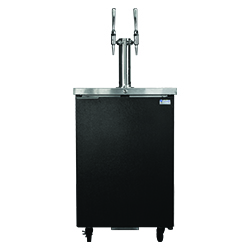 ProFusion Beverage Dispensing System
N2 and CO2 Beverages on Tap
Plug and play; factory assembled system.
The ProFusion system uses one cold keg of cold brew coffee, tea or your craft beverage of choice and dispenses two different style beverages from a single keg.
Nitrogenated or lightly carbonated, and Still Beverage on Tap.
Simple set-up: one keg connection and one gas connection.
ProFusion Injector equipped with two secondary regulators, feeding both the keg and injector.
Built in stainless steel particulate filter, 50 micron, washable and reusable.
Optional custom tap handles available.
Features
Two tap, air cooled, column tower with stainless steel faucets
24" width
30.125" depth
49.25" height*
** Actual height varies depending on tap handle style
Weight: 174 lbs
iN2-2P Injector, two product device
N2 primary regulator
Available with premix tank quick connect couplers or with D style keg coupler
DD24HC direct draw cooler specifications:
Volts: 115VAC/60Hz/1 Phase
4 AMPS
Certifications for DD24HC:

pdf Quick Installation Guide (2.79 MB)